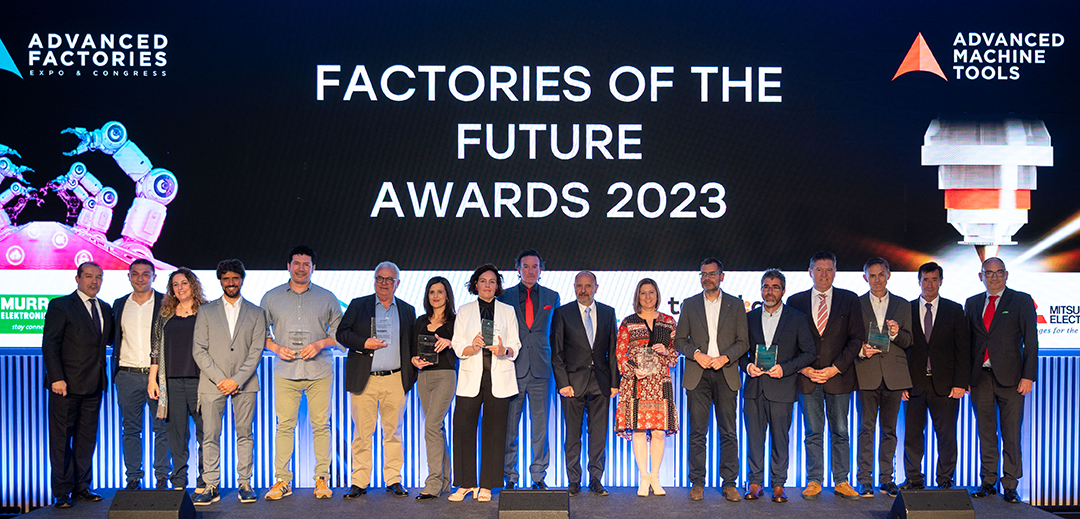 TECNALIA Award for Leadership in industrial plant transformation towards his digitalization
WINNER:
BEIERSDORF: For its own Factory Digitalisation journey as a key enabler and enhancer to increase productivity and its capabilities.

FINALISTS:
DEFTA: For adapting the Spanish plant, and subsequently the entire company, to Industry 5.0, with the application of artificial intelligence and digital twins.
MICHELIN: For evolving the quality methods of its Valladolid factory towards Industry 4.0 standards.
MURR ELEKTRONIK Award for the Best industrial equipment for the factory of the future
WINNER:
EPIC POWER: For its high-performance bi-directional dc-dc converter for industrial applications to improve efficiency and energy management.

FINALISTS:
WEIDMÜLLER: For bringing together an ecosystem of solutions from various manufacturers, thus providing the best possible solution for developing the most advanced automation and integrating it within an Industrial IoT factory.
SCHAEFFLER: For OPTIME Ecosystem, predictive maintenance within everyone's reach by integrating intelligent equipment monitoring and lubrication on the same platform.
MITSUBISHI Award for the most sustainable machine tool
WINNER:
EIMATEC: For the incorporation of multiple drivers in its solutions that enable the use of the energy generated, allowing up to 32% lower consumption.

FINALISTS:
REXROTH: For a hydraulic power supply solution that reduces electricity consumption by up to 80%.
MARKFORGED: For its composite technology that creates a continuous fibre structure that uses minimal electrical power consumption due to non-temperature manufacturing.
TELEFÓNICA TECH Award for the Most Disruptive Startup in the Industrial Field
WINNER:
FEELIT: For its maintenance 4.0 solution that alerts in real time of failures, avoiding unscheduled downtime and contributing to the efficient use of resources.

FINALISTS:
GHI Smart Furnaces: For its Beyond Alea 4.0 Platform: A continuous improvement process towards an autonomous factory that optimises existing processes and business models by helping companies to integrate all their metal recycling operations into a complete digital platform.
SIALI TECH: By Rely, a software developed by Siali aimed at factories and industrial integrators, which allows them to automate visual inspection processes by taking advantage of deep learning.
SOTHIS Award for the Best research and development of artificial intelligence applied in industrial plants
WINNER:
CANMARTEX: For its AI-based machine vision system for detecting problems with needles and latches on circular knitting machines. Zero Def.

FINALISTS:
THEKER: For its technology that enables more environmentally friendly, efficient and accurate welding.
ENKITEK: For its Cloud software platform to digitise and automate the Vertical Farming sector, using Robotics, IoT and Artificial Intelligence.
PHOENIX CONTACT Award for the Best Robotics Project
WINNER:
BECKHOFF: For its new modular industrial robot system ATRO. A modular system from which the appropriate robot kinematics can be assembled with extreme flexibility for any application.

FINALISTS:
SHARE WORK: For its Collaborative Work System, an intelligent system for safe and ergonomic collaboration between robots and workers in industrial manufacturing processes.
CTAG: For its Binpcking System with Automatic Part Decracking. The solution for vibration systems strategically placed in the gripper.
JOSEP MUNTAL Award for the Excellence in sustainability, eco-development and circular Economy
WINNER:
L'ORÉAL: For its Burgos factory at the global forefront of sustainable production, both from an environmental and social point of view, demonstrating that an industry can have a positive impact on the society in which it operates.

FINALISTS:
ALTERITY: For its design and manufacture of sustainable lithium batteries supporting renewable energy installations, where Alterity enters with its second life battery solution.
FEELING INNOVATION BY STANPA: For enabling companies in the perfumery and cosmetics sector to respond to environmental challenges, current and future regulations and consumer demands regarding the sustainability of industrial processes.