Advanced Factories offers to your company the unique opportunity to make contact with more than 27,000 professionals from the industrial sector. CEOs, Management Directors and all the decision-makers from leading manufacturing companies come to Advanced Factories looking for the best solutions to transform their manufacturing plant into a smart factory.
The managers of all industrial sectors are increasingly aware of the scope of industry 4.0 and its technologies, so they come to Advanced Factories looking for technical innovations, equipment, management models, experiences and knowledge that allow them not only to respond to their needs, but to anticipate them. Advanced Factories is not only a trade fair, it is your annual meeting where meet with all manufacturing sectors:
Aeronautics
Arms and defense
Automotive, auto parts and auxiliary industries
Equipment goods
Metal constructions
Electronics and electricity
Energy: solar, photovoltaic, wind
Rail sector and its auxiliary industries
Manufacture of equipment and components for other industrial sectors
Manufacture of other machinery (agricultural, textile, lifting)
Manufacture of tools and industrial supplies
Engineering, product development and industrial technical services
Metallurgy
Molds and dies
Industrial assemblies
Naval
Iron and steel industry
Outsourcing (ignition, assembling, mechanization)

More than 27.000 decision makers visit Advanced Factories looking for the latest solutions that are showcased to improve the competitiveness of our manufacturing plants thanks to industrial technologies.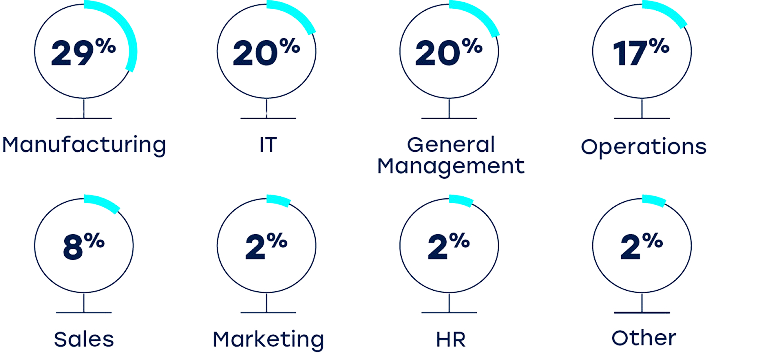 Who is visiting Advanced Factories:
Industrial experts gathered in the most innovative industrial event that intend to design, optimize and improve the productivity of your production center and turn it into a highly productive center, increasing its competitiveness thanks to the acquisition of the latest technology.
Manufacturers, Industrial Entrepreneurs, Executives and Managers of the Industrial Sector, technicians, Production and R&D departments Managers who seek to develop innovation, counsel, industrial solutions, new models of manufacturing and business contacts. They buy equipment to transform (Robotics, Metal Deformation Mechanisms, Automation, Technology…).
Governments and Ministers of Industry, Departments in charge of boosting the industry and its internationalization of Public Administration who cares of boosting re-industrialisation policies in Europe.
Technological and Research Centers, Universities focused on introducing the innovations and transfer knowledge to companies.
Private Investors, Business Angels, Corporate Ventures and Traditional Banking looking for business projects with expansion opportunities and capital need.
International Organizations which want to promote environmental policies and the reduction of industrial CO2 emissions into the atmosphere. IETA, World Bank, EIB, UN…